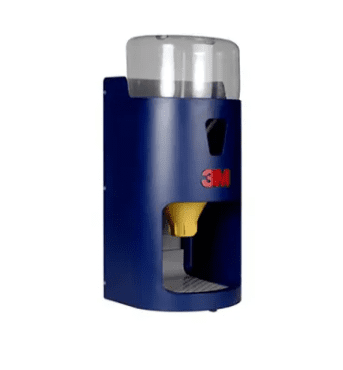 3M E.A.R Blue Ear Plug Dispenser
Tags
3M,
ที่อุดหู,
เครื่องจ่าย One-Touch,
ที่จ่ายปลั๊กอุดหูสีน้ำเงิน,
อุปกรณ์เก็บที่อุดหู,
Blue Ear Plug Dispenser
This 3M E-A-R Soft One-Touch Disposable Earplug Dispenser is easy to use with a simple twist motion while the specially-designed 'no waste' funnel ensures that earplugs drop neatly into the palm of the users hand each and every time. Using the One-Touch? Dispenser helps you stay in control helps you take control of cost, waste and mess. Refills come in transparent bottles giving a clear, visual indication when a replacement is required.
One-Touch Dispenser can be used free-standing or wall-mounted Built-in catch plate prevents wastage
Can be used with any of the 3M E-A-RSoft disposable plug range
Refills bottles are extremely easy to replace in four simple steps
100% recyclable with all components marked accordingly
Easy to assemble and use
• Type : Ear Plug Dispenser
• Colour : Blue
• For Use With : Classic Superfit Earplugs, E A R Soft FX Earplugs, EAR Soft Superfit Earplugs, Yellow Neons Blasts Earplugs, Yellow Neons Earplugs, Yellow Neons Large Earplugs, 3M Classic Earplugs, 1100 Earplugs