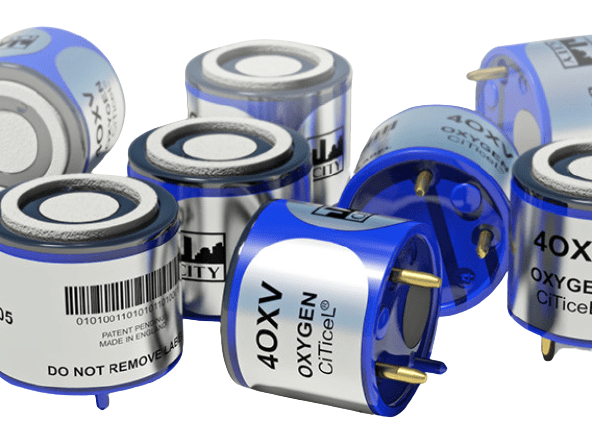 4OXV, industrial safety oxygen sensor O2 sensor
Unique vented technology within the 4OXV and other significant design enhancements address this issue head on, reducing lead exhaustion, electrolyte leakage and inappropriate response to environmental variability – the three main causes of oxygen sensor premature failure.
Technology :
Electrochemical
Measurement Range :
1-25% vol. O2
Maximum Overload :
30% vol. O2
Output Signal :
0.10 ± 0.02 mA in Air
Response Time (T90) :
<15 Seconds
Zero Current (Offset) :
<0.6% vol. O2
Linearity :
Can be considered linear in many cases.
See Operating Principles (OP-02) for further details.
Recommended Load Resistor :
100 ?
Orientation Sensitivity :
<0.2% vol. O2 equivalent
Operating Temperature Range :
-20°C to +50°C (up to 3 months continuous across RH range)
Recommended Storage Temp :
0°C to 20°C
Thermal Transient (Temp. plunge +22°C to -20°C) :
<23.5% vol. O2
Operating Pressure Range :
Atmospheric ± 20%
Pressure Coefficient :
<0.02% signal/mbar
Pressure Transient (60 cm H2O step change)
: <200% signal change
Relative Humidity Range :
(at 0°C to 20°C)
Continuous :
5 to 95%RH non-condensing
Short Term :
0 to 99%RH non-condensing
Long Term Output Drift :
<2% signal/month
Typically
<5% over operating life
Expected Operating Life :
Minimum 24 months in air
Storage Life :
6 months in original packaging