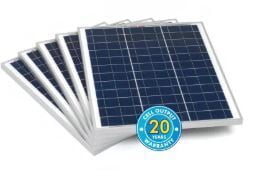 904-6137, 45W Monocrystalline solar panel
Solar "photovoltaic" panels use the power of the sun to generate electricity and can be used in a variety of applications from calculators to homes. They are most effective, versatile and cost-saving in many commercial and leisure applications for charging 12/24V batteries.
Open Circuit Voltage :
22V
Battery Bank Capacity :
10Ah
Dimensions :
634 x 535 x 25mm
Maximum Temperature :
+85°C
Minimum Temperature :
-40°C
Terminal Contact Type :
Ring
Protection Type :
Battery Overcharge
Mounting Style :
Surface Mount
Standards Met :
CE, IEC 61215, IEC 61215:1993, IEC 61710 (Salt Mist Corrosion Test), ISO 9001 (2008), TUV
• High efficiency crystalline cell for "all weather" charging
• Perfect for powering colour pond pumps / fountains* and for use in larger caravans over a week's period
• Water resistant, robust construction for outdoor use.