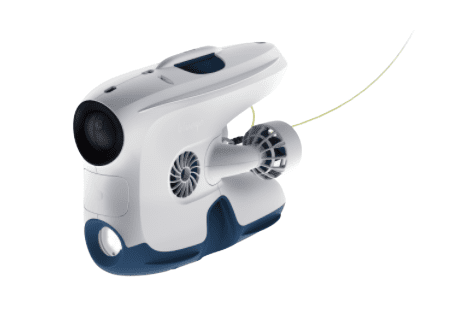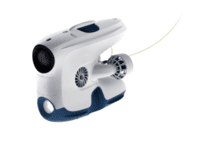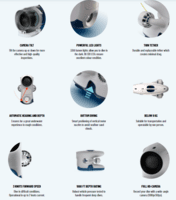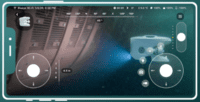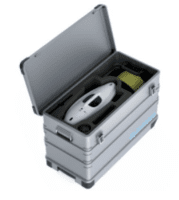 Blueye Pro โดรนใต้น้ำ
The ultimate tool for professionals. Quick and user-friendly inspection of your assets below the surface.
Hull design : Hydrodynamic and hydrobalanced hull for stability and performance in ocean conditions. Ruggedized exterior for impact resistance.
Dimensions : 485 x 257 x 354 mm (LxWxH)
Depth rating : 1000 ft / 305 m.
Weight : 9 kg.
Speed : 1.5 m/s (3 knots).
Run-time : 2 hrs normal operation.
Thrusters : 4 powerful thrusters, 4 x 350 W.
: 2 rear, 1 vertical center, 1 lateral.
: User replaceable.
Automation : Auto heading.
: Auto depth.
Camera : Light sensitive full HD 1080p/30fps, wide angle lens.
: -30° to +30° mechanical tilt.
: 115° vertical field of view (FOV).
Search Light : Powerful 3300 lumen LED lights below camera.
: 90 Colour rendering index (CRI) for precise colors.
: Fittings for extra lights as payload.
Sensors : Inertial Measurement Unit (IMU) with 3-axis gyro and 3-axis accelerometer.
: Depth sensor.
: Magnetometer (compass).
: Temperature (inside and outside).
: Internal pressure sensor.
Payload : Standard fittings for payload on both top and bottom of the drone.
Software : Remote update of firmware on both drone and Surface Unit.
Storage capacity : 64 GB.
Battery : 96 Wh lithium ion smart battery.
: User-replaceable.
SURFACE UNIT (SU)
Wireless transmitter : Wifi router for wireless connection to smartphones or tablets.
: USB port for attachment of ethernet adapter for wired connection in difficult wireless
: environment.
Wireless range : Range depending on environment. At least 15 m in open area.
Cable : Thin and strong cable optimized for use with ocean drones.
: Cable is replaceable for easy handling and upgradeable for other lenghts.
DRONE CONTROLLER
Controller: Wireless drone controller for iOS and Android smartphones and tablets.
APP
Blueye App : Free app for Android and iOS smartphone/tablet.
: Setup & control drone; manage and download dive data and video recordings.
Blueye Dive Buddy : Free app for Android and iOS smartphone/tablet.
: Connect additional devices and share the live video stream with multiple people.
Blueye File Transfer App : Free app for Windows, macOS, and Linux.
: Download files to your computer.
OTHER
Charger : Charger for charging the underwater drone. Extra charger with USB ports for charging SU and drone controller.