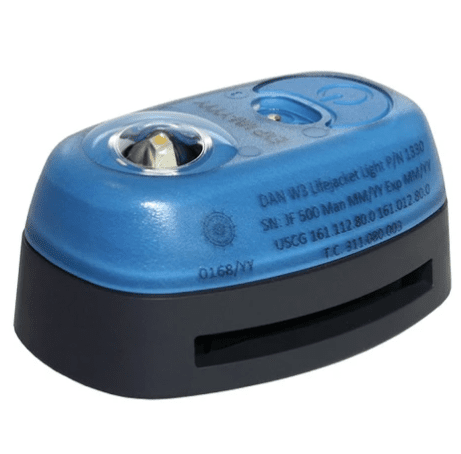 DANIAMANT, DAN-W3, Emergency light for life jacket
Tags
Lighting,
DAN-W3,
Emergency light for life jacket,
ไฟฉุกเฉินสำหรับเสื้อชูชีพ,
LIFEJACKET LIGHT,
ไฟฉุกเฉิน,
DANIAMANT
This new, low pro
DAN-W3
le light is a single compact ashing unit. The light is emitted through a ultra low prole dome, making the light less susceptible to damage during evacuation. Easily tted with two different backing plates, one to go over a thin strap and one to go over a 5cm belt. This is the automatic version of Dan M3. The light activates automatically when in water and can be turned off manually if required.
• Plastic Colour : Blue (Standard)
• Light – Output : Minimum 0.75 cd
• Light – Duration : Minimum 8 hours
• Light – Type : White Flashing LED
• Material : ABS Polycarbonate / TPE
• Storage Temperature : -30°C to + 65°C
• Operating Temperature : -1°C to + 30°C
• Storage Life : 5 year
• Weight – Nominal : 31,3 g
• Battery Type : Lithium Thionyl Chloride