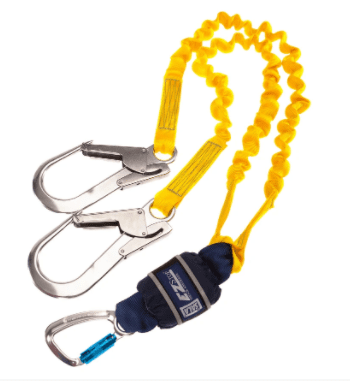 DBI-Sala, 1245534, Scafold Hook Shock Absorbing Lanyard Karabiner Twin
Tags
สายรัด,
สายรัดตัว,
สายsafety,
สายรัดดูดซับแรงกระแทก,
Scafold Hook Shock Absorbing Lanyard Karabiner Twin,
DBI-Sala,
1245534
EZ STOP Expander shock absorbing lanyard, twin leg, supplied in a smaller and lighter shock pack rated up to maximum of 130 kg. The expander lanyard uses HI-10 energy absorbing technology and is five times stronger than steel.
Identification labels are easy to access and are fully protected using I-Safe. Each lanyard can be tracked plus is marked with a unique serial identification number. An aluminium twist lock carabineer body connector is included along with two scaffold hook aluminium anchor connectors. The elasticated webbing reduces the length by 50 cm when not under tension.
Expander
Twin leg
Leg material – 35 mm polyester webbing
Elasticated webbing reduces length by up to 50 cm
Reduced trip snarling
Length 2 m
Maximum user weight 130 kg
Small and light shock pack
HI-10 energy absorbing technology
5 times stronger than steel
Identification labels