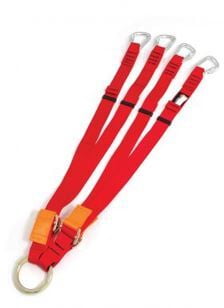 FERNO, BRB-TLB, ADJUSTABLE LIFTING BRIDLE FOR RESCUE STRETCHER ATTACHMENT
Tags
FERNO,
เครื่องมือเซฟตี้,
BRB-TLB
ADJUSTABLE LIFTING BRIDLE FOR RESCUE STRETCHER ATTACHMENT
The Ferno Adjustable Lifting Bridles are designed for use with the Gazelle and Titan Basket Stretchers.
Each bridle has a drop forged steel lifting ring attachment point. Each of the four adjustable arms are manufactured from heavy duty UV resistant webbing and are quickly set for optimum patient positioning.
• UV resistant webbing
• Rated to 2520 kg (25 kN)
• Bright orange tabs for identification of the adjustment buckles.
• The BRB-TLB (small, screw gate karabiners) is suitable for the Traverse Titan and Gazelle Stretchers.