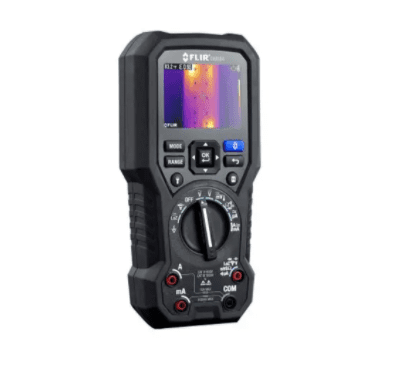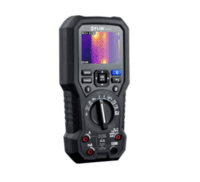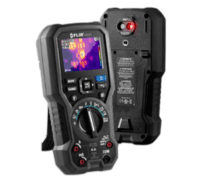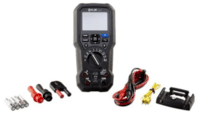 FLIR DM284 Handheld LCD Thermal Imaging Multimeter
Tags
FLIR,
digital multimeter,
มัลติมิเตอร์ถ่ายภาพความร้อน LCD,
DM284,
มัลติมิเตอร์มือถือ,
Thermal Imaging Multimeter,
thermal imager
DM284 visually guides you to the precise location of an electrical problem, helping you pinpoint hot spots faster. The DM284 has built-in work lights and a laser pointer to help you access difficult locations that have lighting issues. Able to view thermal and electrical measurements simultaneously on wide-view display.
• IGM?
• Thermal Imager
• Pinpoints problems quickly and safely with IGM
• Carry one device and always have access to thermal imaging
• Non-contact voltage measurement
• Built-in 160 x 120-resolution thermal camera sensor visually guides you to an electrical problem
• Verify electrical issues with trusted readings every time, even with complex measurements
• Thermocouple input + test probe
• Includes high-quality test probes and a Type K thermocouple input
• IP54: resistant to a majority of dust ingress and water splashes
• Purposefully designed easy-to-read big-digit screen
• Accurate, intuitive, rugged & reliable
• 3 m drop-tested and IP rated for splash and water resistance
• Multimeter Type : Handheld
• Absolute Maximum AC Current Measurement : 10A ac
• Absolute Maximum DC Current Measurement : 10A dc
• Absolute Maximum Resistance Measurement : 50M?
• Absolute Maximum AC Voltage Measurement : 1000V ac
• Absolute Maximum DC Voltage Measurement : 1000V dc
• Absolute Maximum Capacitance Measurement : 10mF
• Absolute Maximum Temperature Measurement : +400 °C, +752 °F
• Functions Measured : Capacitance, Continuity, Current, Flex Clamp, Frequency, Resistance, Thermal Imaging, Thermocouple, VFD, Voltage
• True RMS : Yes
• Maximum Frequency : 99.99kHz
• Display Type: LCD
• Model Number p : DM284
• Best DC Current Accuracy: ±1 %
• Best Temperature Measurement Accuracy: ±1 %
• Best AC Voltage Accuracy : 0.09 %
• Best DC Voltage Accuracy: 0.09 %
• Dimensions: 49 x 95 x 200mm
• Safety Category Level: CAT III, CAT IV
• Weight: 537g
• Battery Life: 12 (Rechargeable) h, 3 (Alkaline) h
• Maximum Operating Temperature :+150°C
• Height: 200mm
• Minimum Operating Temperature : -10°C
• Best Resistance Measurement Accuracy: 0.9 %
• Best Capacitance Measurement Accuracy: 1.9 %
• Safety Category Voltage: 600 V, 1000 V
• Battery Type: AAA
• Width: 95mm
• Length: 49mm
• Best AC Current Accuracy: ±1 %