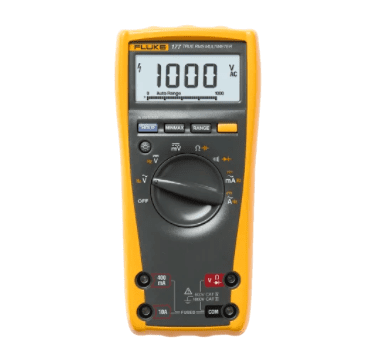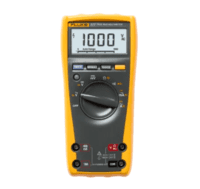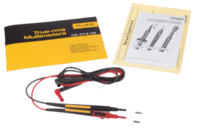 Fluke 177 Handheld Digital Multimeter
Tags
ดิจิตอลมัลติมิเตอร์,
FLUKE,
ดิจิตอลมัลติมิเตอร์แบบมือถือ,
digital,
digital multimeter,
multi meter,
multimeter,
มิเตอร์แบบดิจิตอล,
เครื่องวัดไฟแบบตัวเลข,
มัลติมิเตอร์แบบตัวเลข
ดิจิตอลมัลติมิเตอร์ Fluke 170 Series ให้การวัดแรงดันและกระแส True RMS ความละเอียด 6000 นับและกำหนดเองและอัตโนมัติ พวกเขาให้การวัดความถี่ความจุความต้านทานความต่อเนื่องและไดโอด Fluke 177 และ 179 ให้ความแม่นยำพื้นฐานที่สูงกว่า (0.09%) จอแสดงผลดิจิตอลพร้อมกราฟแท่งอะนาล็อกและแสงพื้นหลัง Fluke 179 ให้การวัดอุณหภูมิ
• 6000 count LCD with 33 segment bargraph
• True rms (a.c.) measurement
• EN61010-1 safety standard compliance to Cat IV 600V & Cat III 1000V
• Resistance, continuity and diode measurement
• Capacitance measurement up to 10000?F
• Frequency measurement up to 100kHz
• Min/Max/Average recording
• Display and Auto Hold
• Separate battery and fuses access without breaking the calibration seal
Fluke 177 and 179 are true-RMS Digital Multi-meter provides the right features for electrical maintenance experts, the industry standard trouble shooting multi-meter.
• Fluke 177 and Fluke 179 offer precision. Reliability and are easy to use that's why this range are the preferred solution for professional technicians worldwide. Independently tested for safe use in CAT IV 600 V/CAT III 1000 V environments, the Fluke 177 Includes all the features you need to troubleshoot and repair many problems in electrical and electronic systems.
• With the Fluke 177 and 179 Digital Multi-meters you get True-RMS voltage and current measurements, 6000-count resolution, manual and automatic ranging, and frequency, capacitance, resistance, continuity, and diode measurements. In addition, the Fluke 177 provides 0.09% basic accuracy, a digital display with analogue bar graph and backlight. Plus a limited lifetime warranty.