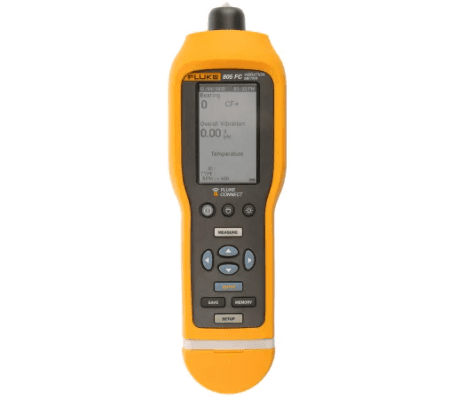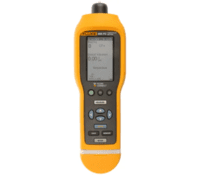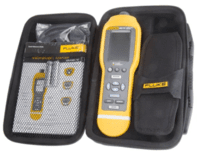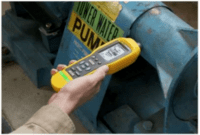 Fluke 805 Vibration Meter
Tags
FLUKE,
bearing meter,
เครื่องวัดความสั่นสะเทือน,
vibration meter,
vibration pen,
เครื่องวัดความสั่นสะเทือนของเครื่องจักร,
Fluke 805 Vibration Meter
เครื่องวัดการสั่นสะเทือน Fluke 805 จะวัดการสั่นสะเทือนของเครื่องจักรโดยรวมการสั่นของลูกปืนและอุณหภูมิพร้อมกัน เพื่อให้แน่ใจว่าสามารถตรวจวัดซ้ำได้อุปกรณ์จึงใช้เซ็นเซอร์นวัตกรรมใหม่ที่ตรวจสอบแรงที่กระทำกับปลายปากกาก่อนเริ่มการวัดการสั่นสะเทือน
Fluke 805 vibration meter measures overall machine vibrations, bearing vibrations and temperature simultaneously. In order to ensure measurement repeatability, the device makes use of an innovative sensor that checks the force applied to the tip before the vibration measurement starts.
The overall vibrations levels are compared to pre programmed alarm levels and machine condition is provided in four stages.
Bearing condition is assessed automatically with crest factor plus parameter. With the use of this parameter it is not needed to know the shaft diameter and rotational speed of the bearing, neither the bearing class.
Temperature measurements are conducted touchless with an infrared sensor.
All measured values can be stored and exported to an MS Excel template to create trend plots that help to predict the machine- and bearing condition
The unit has an audio out for listening to machine noise and a LED light torch to make dark measurement spots visible.
• Sensor tip design minimises measurement variations
• Low & high frequency ranges
• USB connection enables data export to Excel
• Trending in Excel using built-in templates
• Overall vibration measurement (10 Hz to 1,000 Hz)
• Colored lighting system indicates pressure needed to be take measurements
• Memory: Up to 3500 measurements
• Operating temperature: -20 , 50°C
• Innovative sensor and sensor tip design helps minimize measurement variations caused by device angle or contact pressure
• Four-level severity scale assesses urgency of problems for overall vibration and bearing condition
• Exportable data via USB
• Trending in Excel using built-in templates
• Overall vibration measurement (10 Hz to 1,000 Hz) for acceleration, velocity and displacement units of
measurement for a wide variety of machines
• Crest Factor+ feature provides reliable bearing assessment using direct sensor tip measurements between 4,000 Hz and 20,000 Hz
• Temperature measurement with Spot IR Sensor increases diagnostic capabilities
• On-board memory holds and saves up to 3,500 measurements
• Audio output for listening to bearing tones directly
• External accelerometer support for hard to reach locations
• Flashlight for viewing measurement locations in dark areas
• Innovative sensor
• Red-Green LED feedback
• Crest Factor plus (CF+)
• Overall vibration assessment
• Trending in 805 XL template
• Overall vibrations, CF+ and temp
• LED torch
• Audio output
• Ensures measurement repeatability
• Clear visual distant feedback on measurement process, without looking at the display
• Assessment of bearing condition without entering any bearing dimension nor rotational speed.
• Empirical machine vibration alarm levels are programmed in 805 and help to judge the machine condition.
• Straight forward excel template that creates automatically a trend plot on each vibration parameter measured. Easy to use and no installation hassles.
• Measured simultaneously which saves you time
• Even when environment gets dark, the onboard LED illuminates the point of measurement
• Listen to machine noise