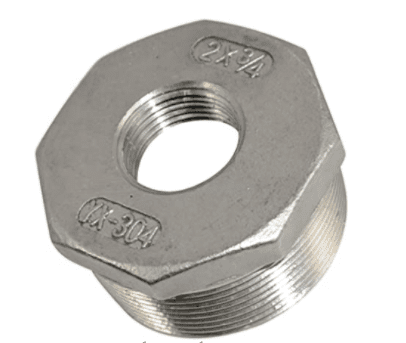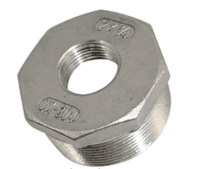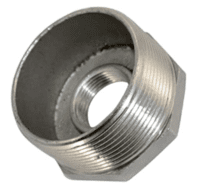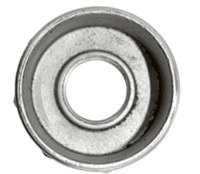 GlobalMa, 2" Male x 3/4 Female thread reducer bushing pipe fitting, Stainless steel SS 304 NPT
Tags
ข้อต่อ,
ท่อ,
Adapter,
อุปกรณ์ท่อ,
ท่อลดเกลียว,
อะแดปเตอร์,
สแตนเลส,
สแตนเลส SS 304 NPT,
3/4 Female,
pipe fitting,
GlobalMa,
Stainless
Pipe fittings are components used for connecting, terminating, controlling flow, and changing the direction of piping in many different industries.
When purchasing pipe fittings, consider the application, as this will affect material type, shape, size, and required durability.
Fittings are available threaded or unthreaded, in many shapes, styles, sizes, and schedules (pipe wall thickness).

• แรงดันใช้งานสูงสุด 150 psi ที่ 70 องศา F
• รูปร่าง : บูชลด (ตัวผู้ x ตัวเมีย), การเชื่อมต่อ: NPT-NPT, ขนาด: 2 "x3 / 4"
• เกรด NPT สำหรับการสร้างซีลที่แน่นกว่าเกรดแบบตรง
• เกรด NPT ตัวผู้ที่ปลายด้านหนึ่งและเกรด NPT ตัวเมียที่อีกด้านหนึ่งสำหรับเชื่อมต่อกับท่อเกลียวตัวเมียและตัวผู้
• ข้อต่ออะแดปเตอร์นี้เชื่อมต่อท่อหรือข้อต่อที่มีประเภทปลายเส้นผ่านศูนย์กลางหรือวัสดุที่แตกต่างกัน
• ผู้ผลิต: GlobalMa
• ส่วนจำนวน: WJ
• น้ำหนักสินค้า: 7.2 ออนซ์
• ขนาดแพ็คเกจ: 3.4 x 3 x 1 นิ้ว
• หมายเลขรุ่นของสินค้า: EVERBUY
• ขนาด : 2 "ตัวผู้ x 3/4" ตัวเมีย
• วัสดุ: เหล็กกล้าไร้สนิม
• รูปร่าง: ตามภาพที่แสดง
• ระบบการวัด: ภาษาอังกฤษ / มาตรฐาน