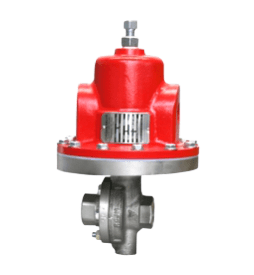 Jordan, Mark 53/54 Series, Back Pressure Regulators, Differential, Jorlon Diaphragm
Tags
Jordan,
Diaphragm Valve,
เครื่องปรับความดันย้อนกลับ,
Differential,
Back Pressure Regulators,
Mark 53/54 Series
The Mark 53 is designed to maintain inlet pressure at a set differential pressure over the signal pressure loaded on the diaphragm. The Mark 54 provides the same flow capacity but with less offset in controlled pressure due to a larger diaphragm. It can be used for both differential and remotely adjusted applications. A negative differential version is also available.
• Sizes: MK53 1/4– 2 (DN8 – DN50); MK54: 1/4 – 3/4 (DN8 – DN20)
• Cv (Kv): up to 30 (up to 25,8)
• Diaphragm: Jorlon, Stainless Steel, Buna-N, Viton
• Setpoint: MK53: 0.5 – 150 psi (0,03 to 10,3 bar); MK 54: 0.5 to 170 psi (0,03 to 11,7 bar)
• Body Material: Ductile Iron, Bronze, Carbon Steel, Stainless Steel
• End Connection: Threaded, Flanged, Socket Weld, Butt Weld
• Options: Double Diaphragm, Flow through Dome, and Handwheel