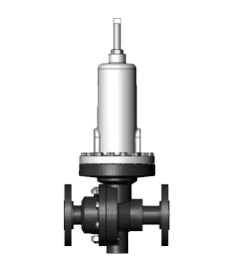 Jordan, The Mark 60HP, High Pressure Regulator
Tags
valve,
Valves,
Jordan,
เครื่องปรับความดันสูง,
High Pressure Regulator,
The Mark 60HP
The Mark 60HP Series has a working pressure fully rated to ANSI Class 600 pressures, and permits setpoints as high as 450 psi. The Mark 60HP is used to regulate the downstream pressure to a predetermined setpoint. The spring in the Mark 60 holds the sliding gate seats in their normally open position to allow the process media to pass through the sets.
• Sliding Gate Trim – unique seat design for unsurpassed trim life and accuracy
• Jorcote Seat Coating – ceramic composite for liquids, gases and especially steam. Very low friction with outstanding wear resistance and a temperature rating of up to 550°F. Steam tested to 1,000,000 cycles and still maintained Class IV leakage.
• Jorlon Diaphragm – extremely durable, virtually universally applicable up to 450°F. Tested without failure to over 1,000,000 full stroke cycles. Ideal for steam, gases and liquids. 316SST diaphragm applicable up to 550°F.
• Minimum maintenance – the MK60HP sliding gate seats require no special tools for disassembly. The seats are pre-lapped at the factory and are self-lapping while in operation ensuring a continual tight shutoff.