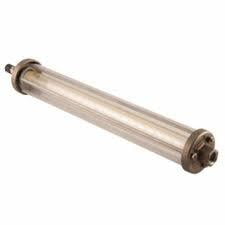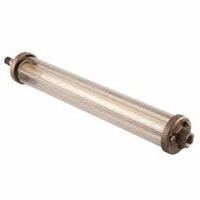 KENCO, PSG0180-SA-LPH, PUMP SETTING GUAGE
Tags
GUAGE,
ปั๊มสูบจ่ายสารเคมี,
ปั๊มเคมี,
Chemical pump,
PUMP SETTING GUAGE,
KENCO
The KENCO Accu-Rate Pump Setting Gauges? utilize precision scientific glass to provide the most accurate reading possible for calibrating the flow rate of a chemical metering pump. They are also used to periodically monitor the performance and accuracy of a chemical injection system. Additionally, the Accu-Rate Pump Setting Gauge? can be used as the primary containment reservoir of a fluid that will be pumped into a chemical injection system.
• Precision borosilicate glass sight tube delivers precise rate calibration from 0.05% to 0.2%
• Accu-Rate Pump Setting Gauge® will calibrate pump flow rates up to 1095 Gallons per Day and 4140 Liters per Day.
• Clear polycarbonate shield for impact resistance is standard on all models.
• Five (5) scale options are available: U.S. Gallons by Volume (USG), Gallons per Hour (GPH), Gallons per Day (GPD), Liters per Hour (LPH) and Liters per Day (LPD) – Standard volumetric scale in ML on all units.
• Tubing connector assembly on top of unit is standard on units with 316 S.S. and PVC End Plates.
• Standard end plate materials are 316 S.S., PVC, CPVC, Hastelloy C-276 and Alloy 20. Other materials available upon request.
• Drain holes in lower end plate eliminate condensation build-up.
• Redline tape can be applied to the sight tube for better visibility of clear liquids. The Redline tape will magnify visibility in the portion of the glass sight tube that contains liquid.