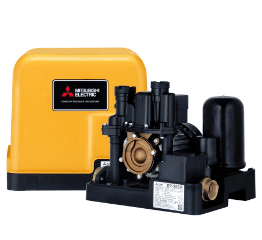 MITSUBISHI, EP-355R, WATER PUMP 350W 1-1/4"
Tags
AUTOMATIC PUMP,
MITSUBISHI,
water pump, ปั๊มน้ำ, ปั๊มน้ำอัตโนมัติ, mitsubishi, pump water
Ideal for moderate-sized houses or buildings as the pump features maximum wattage of 350W, providing constant water pressure. With energy-saving efficiency label of no.5, it guarantees cost-saving usage for your best benefits. The body is coated with special color pigment to resist rust, making it suitable for both indoor and outdoor installation. The plastic cover is nonflammable and comes with holding screws for secure protection against pest like rats or insects that could damage the power cord and parts.
•
Low-noise operation with constant water pressure.
•
No.5 energy-saving efficiency label.
•
Copper pump head is durable and rust resistant.
•
Features protection against reverse flow as the check valve moves vertically for complete stop of the water.
•
Thermal protector to prevent overheating.