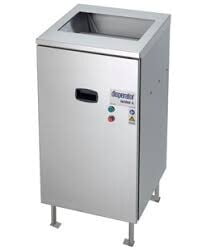 Model 400-MC DISPERATOR Waste Disposer Free Standing
Tags
Waste Disposer,
เครื่องกำจัดขยะ,
DISPERATOR,
เครื่องกำจัดเศษขยะ
The Model 400-MC food waste disposer is the perfect choice for kitchens and galleys where small amounts of food waste should be disposed of continuously while work is in progress. Designed to be installed as a separate unit, this disposer is delivered ready to be connected to existing flushing water, drainage and electrical supplies. The positioning of the waste water outlet can be adjusted when installing to suit the position of the existing drain. The opening into the grinding chamber allows continuous feeding of food waste into the disposer. The disposer grinds waste to a particle size that complies to MARPOL – regulations for discharging of food waste at sea.
• Incoming water ½" BSP, male connection to a flexible hose.
• Water trap 1½". Outlet (outer dia. 50mm) placed at back but can be turned 900 to right or left if requested. Slope of drain pipe 5:100 or more.
• Ingress Protection Code: IP22. Specifications Dimensions Millimeters (mm) Width 500 Depth 500 Height 991 Capacity 100 kg/hr Rating 550 watts Voltage (Options) 110 – 120V / 1ø / 60Hz 220-240V / 1ø / 50-60Hz Net / Gross Weight 46 / 58 Kg