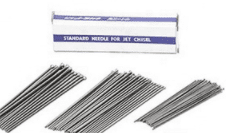 Needles for Jet Chisel 3x180mm., 4x180mm. JEX-28
Tags
needle,
เข็มจักรอุตสาหกรรม,
JEX-28
Quick, Jet Chisel needles adjust to any surface contour automatically. They get deep into corners, all the way into uneven surfaces, all types of curvatures making it a tool no shop should be without. It's an equally efficient time-saver in ship-board applications, too.
Stroke Speed: 4.500 min-1
Needles to be used:
3 x180 mm.
4 x180 mm.
Air Consumption: 0.35 m³/min
Mass (Weight):3.5 kg
Standard Accessories:
Needle OD 4mm x 180 mm
Needle OD 3mm x 180 mm
Needle Supporter OD 4mm : 1pc.