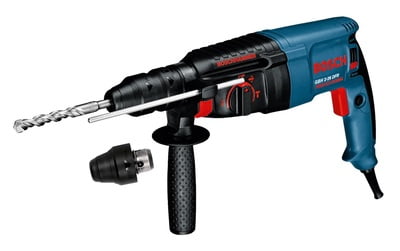 ROTARY HAMMER BOSCH GBH2-26DFR 800W
Tags
เครื่องมือช่าง,
สว่านไฟฟ้า,
เครื่องเจาะสว่าน,
อุปกรณ์ช่าง,
bosch,
สว่านโรตารี่,
สว่าน
ROTARY HAMMER BOSCH GBH2-26DFR 26MM 800W
This high-quality electric rotary hammer is handily able to tackle all tasks. Capable of drilling through wood, steel, gypsum, plastic, or using in any DIYs . The lightweight structure supports continuous operation with ease of use.
•
High-standard impact drill provides full capacity.
•
Handle is ergonomically designed for firm handling.
•
Features an air vent for better heat extraction.
•
Power cable and connector are well insulated for current leakage protection.