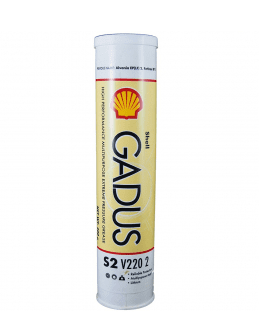 Shell, GADUS S2 V2202 - 400g
Tags
ตลับลูกปืน,
น้ำมัน,
SHELL,
เชลล์กาดัส,
จาระบี,
จาระบีShell Gadus,
จาระบีอเนกประสงค์,
GADUS S2 V2202,
GADUS,
S2 V2202
Shell Gadus S2 V2202 greases are high quality multi-purpose greases based on high viscosity index mineral oil and a mixed lithium/calcium soap thickener. They contain extreme-pressure, anti-wear, anti-oxidation and anti-corrosion additives to enhance their performance in a wide range of applications.
Shell Gadus S2 V220 2 greases are designed for :
• Heavy duty bearings and general industrial lubrication.
• Heavy duty plain and rolling element bearings operating under harsh conditions including shock loading in wet environments.
Performance, Features & Benefits :
• Outstanding Load Carrying Capacity
Shell Gadus S2 V220 2 greases contain special extreme- pressure additives which enable them to withstand heavy and shock loads without failure of the lubricant film.
• Improved Mechanical Stability
This is particularly important in vibrating environments where poor mechanical stability can lead to grease softening with subsequent loss of lubrication performance and leakage.
• Good Resistance to Water Wash-out
Shell Gadus S2 V220 2 greases have been formulated to offer resistance to water wash-out.
• Oxidation Stability
Specially selected base oil components have excellent oxidation resistance. Their consistency will not alter in storage and they withstand high operating temperatures without hardening or forming bearing deposits.
• Good Corrosion Resistance Characteristics
Shell Gadus S2 V220 2 greases reliably protect bearing surfaces against corrosion, even when a high amount of water is present.
• SKU: ALVEP2
• Material#: 550029714
: 550026820
: 550026815
: 550027631
: 500005806
• Brand: Shell Gadus
• Stock: Orange, Richmond, San Diego, Vista
• NLGI Grade: 2 - Normal
• Thickener: Lithium
• Kinematic Viscosity cSt : 40°C220
• Kinematic Viscosity cSt : 100°C19
• ViscosityISO 220
• Tags: EP (Extra Pressure), Bearings - Heavy Loaded, High Temp, High Moisture
• Penetration ASTM D217: 265-295
• dropping_point: 180
• Color: Other
• Spec: Equivalent: Shell Alvania Grease EP(LF) 2, Shell Retinax EP 2;