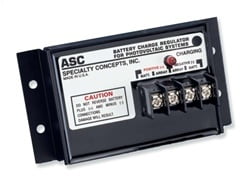 SPECIALTY, ASC-24/16-A, BATTERY CHARGE REGULATOR
Tags
แบตเตอรี่,
ชาร์จแบตเตอรี่โซลาร์เซลล์,
Batteries,
BATTERY CHARGE REGULATOR,
เครื่องชาร์จแบตเตอรี่
The ASC (Automatic Sequencing Charger) has been the industry standard for more then 24 years. With a remarkably low failure rate (< .1%), and its robust and waterproof construction, it is just right for those applications that require the utmost in reliability. Available with optional temperature compensation and automatic low-voltage load disconnect. Ten year limited warranty (see warranty for details).
• Completely encapsulated and waterproof
• Optional internal or external temperature compensation
• Optional 10A Load Disconnect (12, 24 volt only)
• Available in 4, 8, 12, and 16 amp versions
• Available in 12 volt and 24 volt (6 volt, 36 volt, and 48 volt on special order)
• Guaranteed to fully charge a completely dead battery
• The ASC IS UL recognized, CSA approved, and FM approved.
• Made in America with a 10 year warranty